FAQ
Why to cooperate with us?
1. Quotation and manufacturing directly by our China factory. There are not have intermediate trade link.
2. 15 years of production experience with more than 500 products manufacturing experience. And we can provide many reasonable and effective production recommendations.
3. Proficient in material grade and international standard (ASTM, SAE, AISI, BS, etc). Our specialist manage to item from materials, manufacture and inspection to delivery. And form the report and file to you.
4. We monitor production constantly and inspect quality before shipment to reduce risk.
5. We can speak fluent English, and our employees are all graduated from the University of mechanical and engineering which will be make communication easier and more efficient for you.
6. One-stop Solution:
(1) Materials: Material Certificate, Material Report
(2) Production: ISO 9001-2008 Standard, Sample, Production Process Management, Inspection Report
(3) Surface Treatment: Polishing, Sandblasting, Pickling, Phosphating, Painting/Powder Coating, Chrome Plating, Nickel Electroplating, Galvanized, Copper Plating
(4) Flexible Delivery: EX Works, FOB, CIF, DDP, DDU, and delivered directly to your customers
How about of quality control?
1. We have a dedicated QA team. And our engineers will do process quality inspection with during the manufacturing process to avoid delays in delivery, and ensure the stability of product quality.
2. Sample Confirmation: We will offer a sample to you to approved quality. We look forward to receiving any detailed feedback on product quality to be improved products, like the problem of tolerances, welding, coating, printing, assembly, packaging, shipping time and more. When your confirmation the sample, we will then move forward to mass production. We cherish this opportunity and your trust.
3. We do final quality inspection before the shipment, that will be ensure the final products quality.
How Maxtech deal with the quality problem of the goods when we received?
1. We hope you can send us a quality feedback document in the form document. We will analyze the reason and provide feedback. We will not shirk responsibility. Because we have the same goal, we all want to solve the problem then let the business continue.
2. Usually we have a sample step, when customer confirmed the sample then we will move to mass production. If sample have a quality problem, we will analyze the cause and remake the sample, then send it again.
3. A wide range of quality problems, such as material errors and drawings errors. We will bear all the responsibility and apply for your forgiveness. We will accept it unconditionally whether the customer requests a refund or remake.
4. Maybe have some small problems in the customer can accept the case. We would like to actively consult with our customers and find the best solution. Maybe add some remake products in the next order as compensation, maybe refund some money as compensation.
Maybe you worried about some questions:
1. The materials of China's steel plates and pipes have a thickness tolerances problem. For example, the real thickness of 1mm mild steel sheet is 0.80mm - 0.85 mm with divided into hot rolled plate, pickling plate and cold rolled plate. If you request a strict tolerance final products, that we need to use 1.2mm thickness sheet to manufacture, then followed by the corresponding cost will be increased. The real thickness of 3mm steel pipe is 2.75mm with divided into welded steel pipe and seamless steel pipe. So different materials will directly determine the final cost. Maybe the lowest price is likely to be "surface phenomenon".
2. We hope our customer can be provide the product application, detailed drawing, materials and specific request (quantity, tolerance, flatness, surface treatment, packaging and more). It's very import, that will be help us to provide an accurate quotation, improve the success rate of the product and greatly reduced the future risks as well as unnecessary disputes. If possible, we hope you can send sample to us. Sure, the early work should be Maxtech would have to do it.
3. In the transport, loading and unloading or production process will be lead to materials and products have some curved and scratches. And the long-term storage or ocean shipping will be lead to products get rusty. So sometimes it is necessary to add some cost to surface treatment and packaging for protect the product.
4. As the metal fabrication is a highly competitive and transparent industry. We will not offer a high price, then bargain with the customer, this is not the right way of business. In fact many products cost can be calculated through by formula. We cherish every opportunity and every customer. So we only provide the reasonable and real quotation. Usually the sample have a higher cost, maybe the cost will be close to the US or Europe cost. But when we move on mass production will be more than 20% decline per unit piece.
The main reasons as follows:
(1) Some time maybe not have stock of materials, so we have to buy a complete sheet (2400mm*1500mm) or pipe (length: 1500mm) to do a sample. However, if the sample passed the test and move on mass production, we will also remove the corresponding cost. And the mass production have a good cost advantage in the procurement of raw materials.
(2) The workshop all have a production plan, so when we receive a new order, it means that we need to stop the work to debug the equipment to complete the sample. Usually a equipment need to 2-3 hours to achieve a stable state.
(3) Many production processes have a pre-fixed costs, such as bending mold, stamping die and welding fixture.
(4) Express cost: it is decided to use weight freight or volume freight according to the formula of L*W*H/5000.
Therefore, the above problems will be lead to sample costs seem expensive. With mass production and stable orders, the cost will be gradually reduced. Because the price advantages of raw material purchase, without mold/fixture cost, processing equipment stable, worker production experience increased, products defective rate reduced and ocean shipping costs lower.
5. We want customers to have some tolerant and understanding for product problems. Because the accumulation of production experience in the new item is very important with especially the custom manufacturing service. We will not shirk responsibility, and we will analyse problem, process improvement, experience accumulation, equipment adjustment and cross-departmental communication coordination to solve the problem, then to provide our customers with stable and reliable quality products.
6. The delivery is a very important part of the whole service. Usually we will separately provided the lead time and shipping time. But somethings maybe still affect the delivery of the product, such as statutory holidays, factory power outages, workers leave, some surface treatment work maybe need other partners, payment did not arrived, time interval from booking to sailing and disaster. Anyway, we will tell you the problem in advance and provide a solution.
7. Usually our quotation is based on the stock materials price and exchange rate of the day. But many times the customer order is in 1 month, 3 months or after a longer period of time. In this process, the operating costs, raw material prices and exchange rates may have a undergone much changes. So we have to adjust the corresponding product price (usually price increases). In fact, the operating costs will not change much in short-term. We are most worried about is raw material prices and exchange rate changes, because we can not control it.
The following picture shows the Trend of China Average Yearly Wages in Manufacturing, Price Trend of Steel Materials and USD/CNY Exchange Rate Trend to explain some of the changes in our cost. However, we will not be arbitrary to change the price, and we know the current market is very transparent. Sometimes the changes of exchange rate and raw materials price can be hedged against each other. Sometimes we will also sacrifice some profits to provide customers with a stable price. Because we know that our partners need a stable partner and a stable price to support their business development.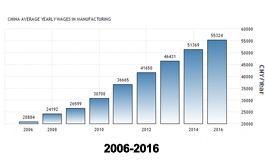 China Average Yearly Wages in Manufacturing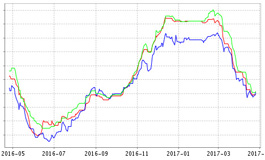 Price Trend of Steel Materials (2016-2017)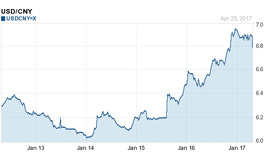 USD/CNY Exchange Rate Trend (2013-2017)
What's the Maxtech capacity?
| | | |
| --- | --- | --- |
| Product Name | Annual Production Volume | Unit Type |
| Sheet Metal Fabrication | 8000 | Set/Sets |
| Welding and Fabrication | 2000 | Ton/Tons |
| Other Metal Parts | 500 | Ton/Tons |
What's the Maxtech business terms?
Accepted Delivery Terms: FOB, CFR, CIF, EXW, CIP, DDP, DDU, Express Delivery
Accepted Payment Type: T/T, L/C, Western Union, Paypal, Cash
Nearest Port: Shanghai Port, Ningbo Port